Yea...Apple fag..akhirnya Iphone 5 telah selamat dilancarkan tadi (12/9/2012) di Yerba Buena Center for the Arts San Francisco. Antara ciri2 yang ketara dengan previous iPhone ialah ianya lebih nipis, ringan dan mempunyai skrin yang lebih besar. Keseluruhannya, ia diperbuat daripada 'glass' dan juga aluminium.
Jurucakap Apple berkata, ia hanya setebal 7.6 milimeter dan juga seberat 122 gram iaitu 18% lebih nipis dan 20% lebih ringan daripada model yang sebelumnya Iphone 4S. Skrinnya pula selebar 4 inci dan menggunakan retina display dengan 1136x640 resolution dan 326 pixel density . Tambahan pula inya mempunyai sokongan 4G dan juga menggunakan cip quad-core Cortex A6 processor. Super laju....
Sokongan yang lain ianya dikuasakan dengan perisian IOS6 dan mampu bertahan selama 225 jam standy, 8 jam bercakap, 8 jam 3G dan juga 10 jam browsing. Dari segi kamera pula, ia masih menggunkan kamera 8 MP dengan fungsi HD videos 720p dan 3 mikrofon.
iPhone 5 features yang aku copy paste dari
Mashable.com
1. Five rows of apps on the screen
2. Made entirely of glass and aluminum
3. The thinnest, lightest phone we ever made … 7.6 mm thin, 18% thinner than the 4S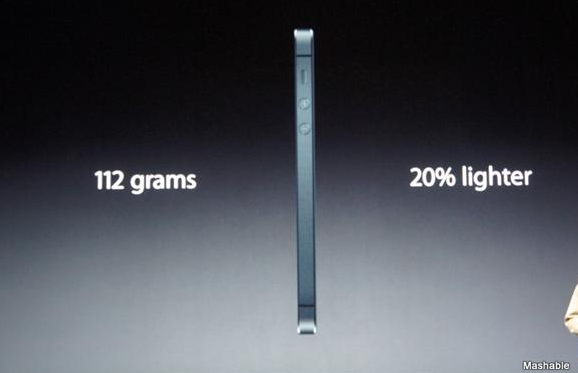 4. The same retina display, 326 pixels per inch, as its predecessor. 4 inch display
5. 1136 x 640, 19:6 aspect ratio
6. With the vertical pixels, we're able to add a fifth row of icons … you see more of the web, more of your email. Your Calendar shows more events
7. All of our software is being updated to take advantage of this gorgeous display. iPhoto, iMovie, Garage Band
8. But what about the third-party apps? "It runs at the same size. You don't have to stretch or scale it. Black borders on each side
9. new display has 44% more color saturation than the 4S display. "the most accurate display in the industry.
10. Touch sensors have been integrated into the display itself, rather than a layer on top
11. ultrafast wireless
12. HSPA+ and DC-HSDPA are also built in
13. LTE is a single chip, a single radio, a dynamic antenna that can switch between networks. LTE can be faster than the fastest wifi at home.
14. 802.11n 5 Ghz built in for wifi, up to 150 mbps of speed
15. now on to the really geeky stuff — the Apple A6 chip. 2x faster CPU, and 22% smaller
16. Loading a music app is 2x faster with the new chip
18. The camera. 8 megapixel, 2364×2448 resolution & Panorama is a new feature that allows you to take massive widescreen features
19. one mic on the front, one on the bottom, one on the back. Important for Siri and other apps
20. the speakers into a space that's 20% smaller. The earpiece has more noise cancellation
21. new connector is called Lightning & and it's a reversible connector. Doesn't matter which way you plug it in. the new connector is 80% smaller. Bose, JBL, Bang and Oulefson are working on new devices.
22. iOS 6 "designed from the very beginning" to take advantage of the iPhone 5.
23. The new Maps also integrates data from Waze, adding real-time traffic information and 3D. The Maps app — it has a "Print" option displayed prominently
24. Mail enhancements include VIPs, messages from everyone you want flagged as important. The flag icon is available throughout Mail.
25. sharing photos on the photo stream now. Friends will receive push notifications
26. Now you have full-screen mode in Safari
27. iPhone 5 comes in this beautiful black design — and in white
So? Apple or Samsung? Make your choice.......